A

nd now it would seem that I'm a bit torn between the desire for a good tinted moisturizer/foundation/bb cream.. I've heard quite a lot of bad things about this bb cream (but most of it was do to Eastern affinity for major brands, many of which don't perform that well either, so you may already know how I've felt while sifting through these 'reviews'). I've tried it myself and, to be honest, I'm right about it quite a bit for a person who doesn't use it.. Like, I don't really have any interest in wearing it myself o

r

doing shade hunting. There are few brands that make affordable bb's in a full range of tones so I just hadn't put much thought into whether or not I should even bother wearing it (that, and vanity toning have turned me off from the idea of wearing it). However, one thing in particular caught my eye when I tried this bb..
Color.



The color was... perfect, for lack of a better description. I really meant to have a shot of me wearing it for this review, but I wrote it fairly late at night even for my standards; as a result I was in no mood to sit in the dark hovel that is my room with the lcd of my pc shining into my tired face as I re-applied my makeup.. and I had somewhere to be in the morning. But really, this bb cream has been the closest to my natural skin tone that any tinted moisturizer, foundation, or other product has ever gotten..
Scent.
Smells like any other foundation would. Has that subtle talc-y smell.
Durability.
This is where I have had my problems! I am a sweaty individual and even my face gets really sweaty. This bb cream is fine for the Fall and Winter, but that's it for me. One drop of sweat means that this product will begin to fade immediately! That's great for when you don't want to wear it anymore, but not for when you're on the job. Because of this, I feel that a setting spray or powder would be necessary because otherwise this product won't last longer than five hours.
Price.



I paid 10.99USD. It can easily be found for cheaper. Get a coupon, look on amazon, buy from target even; I just don't think this product should cost that much for it's performance quality..
Applicator.
Use a brush or sponge if you decide to try this bb cream. It's runny and a bit on the thick side, so be careful of how much you use. A little goes a long way!
I

ngredients.



Aqua/water, ethylhexyl palmitate, glycerin, octyld0decanol, silica, pentylene glycol, octyldodecyl xyloside, phenoxyethanol, sodium acrylate/sodium acryloyldimethone taurate copolymer, hydrogenated lecithin, isohexadecane, hydroxyethyl, acrylate/ sodium acryloyldimethyl taurate, copolymer, peg - 30, diplohydroxystearate, sodium dehydroacetate, pentaerythrityl tetra-di-t-butyl, hydroxyhydrocinnamate, caprylyl glycol, disodium edta, citirc acid, polysorbate 80, potassium sorbate, propylene glycol, methylisothiazolinone, chamonolla retcuitta extract/matricaria flower extract, aloe barbadensis extract, aloe barbadensis leaf extract, may contain c177891/titanium dioxide, c177491, c177492, c177499/iron oxides.
Packaging.



Comes as is with a plastic protector wrapped around the lid area. Nothing too difficult to remove. The product is in a needle-nose tube with a stopper concealed in the cap, but don't expect that to keep the product from dribbling out.. Clean after each use or it could end up like this: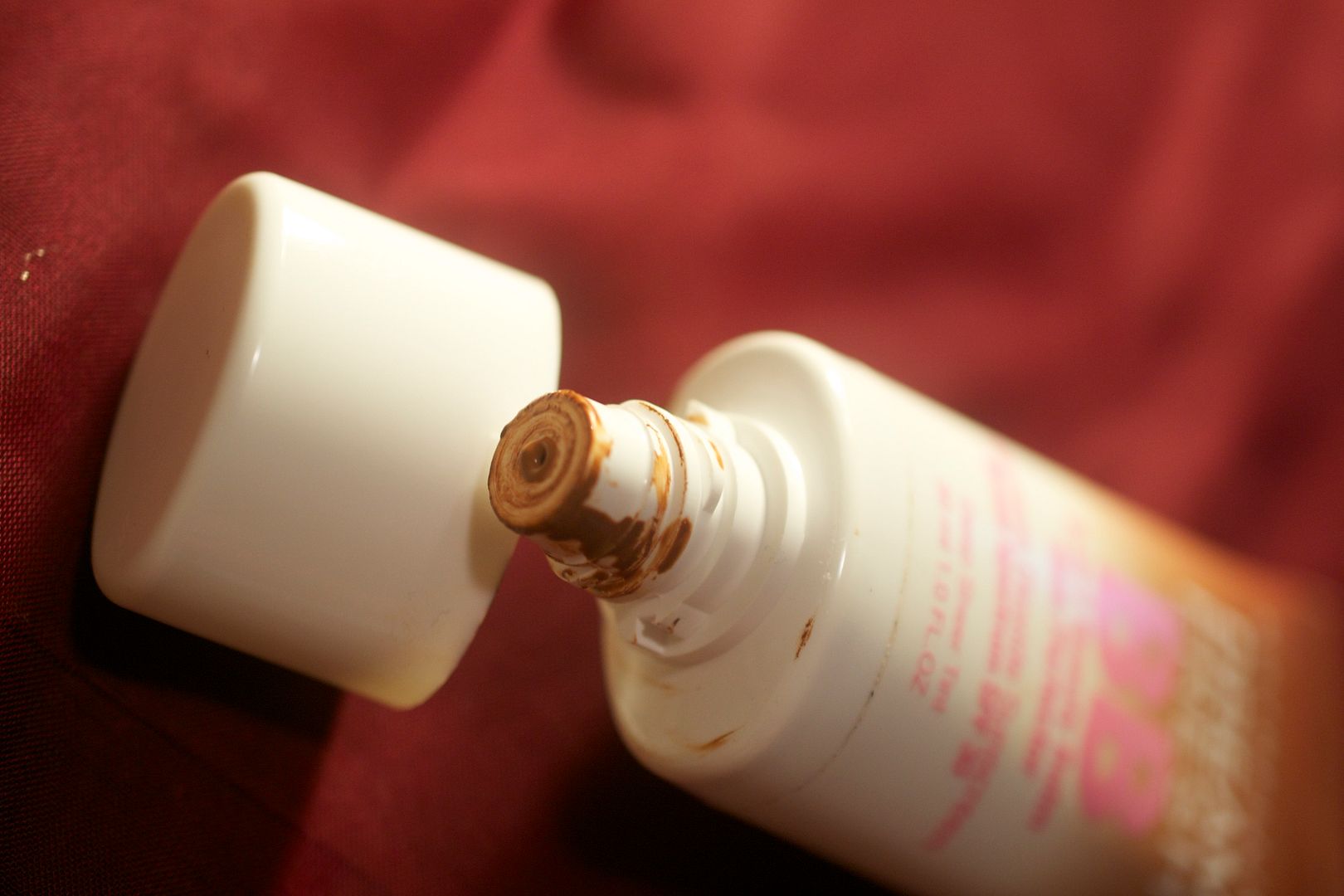 Overall.



I've been really torn about this.. It's got the perfect color for my skin, but the durability leaves something to be desired. Also, avoid using this if you've got oily skin because this product seems to make that expand.. A solid

4/5 stars for coloring.

I'm really upset that it's just my color (yet it performs a bit.. sluggishly). I know that there are others of you who love this item, so shoot me an e-mail explaining why or leave your comments below.. Also, do you know where this item m

ay be on sale??